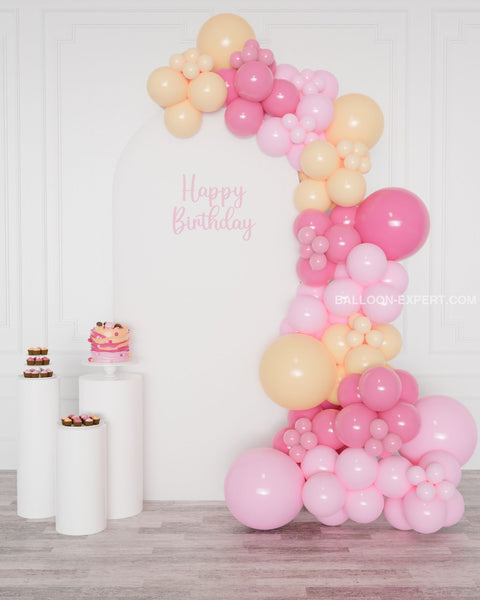 Balloon Expert
Blush and Pink Balloon Garland, 12 ft
PLEASE NOTE
Balloon ribbons and weights will be selected to match the bouquet colour scheme. The colours are subject to availability, if a colour in the arrangement is out of stock, it will be substituted with a similar colour.
Description
Brighten up any special occasion with 12 feet of beautiful pink, blush and pastel balloons! Perfect for birthdays, bachelorettes, baby showers, and summer parties, the Blush and Pink Balloon Garland promises to bring a touch of color and joy to your celebration.
Includes:
12 feet balloon garland 
6 big balloons on the side of the garland
Color palette - blush, candy pink, and pastel pink
Important
Arch backdrop and installation not included.
Ribbons and material included to hang the garland.
For in-store pick up, garlands will be split into 2 parts to fit in your car.
Local Delivery
Our delivery window is between 10am and 2pm. We cannot guarantee an exact time due to several deliveries and traffic. If you need delivery for a certain time please email us before ordering so we can find a solution that works for you.
Delivery is charged based on the distance from our store. This is done automatically at check out when placing your order online. If your postal code does not work at check out, you may be too far away from our delivery center. Please email us info@balloon-expert.com for help!
For your order to be eligible for delivery, you need a minimum order of 100$ depending on location.
For more information you are welcome to visit our delivery page.
Cancellations
CANCELLATION AND CHANGE DEADLINES

For a full refund, the deadline to submit your request is 48 hours prior to delivery or pickup time.

Balloon Expert is not able to change or cancel an order if the request is made on the day of delivery or pickup time since the balloons will already be inflated and once inflated its non-refundable.
Delivery and pick up in-store can only be modified based on availability. For delivery, we only accept modification for the address, date and hours if we didn't deliver your order yet.

If the recipient's address is incorrect and delivery was attempted to the address, there is a 20$ address correction fee. Balloon Expert is not responsible for deliveries made to incorrect addresses submitted to us by the customer. If such a delivery is made, the customer assumes responsibility for the entire purchase.

Please send your request by email to info@balloon-expert.com or call us at 438-638-9009. Consider your order cancelled or changed only when you have received a confirmation by email.